here's a glimpse at what can happen with an optimized Fiverr profile...
My results in less than two years working part time on Fiverr:
Made over $20,000 total, currently earning $2k+ monthly
Achieved Level 2 Seller status within my first 9 months
Accumulated 90+ 5-star reviews from satisfied buyers
Gig consistently ranks on Page 1 of Fiverr search results for my service, with a minimum of 1,000 impressions daily
Increased my rates by 8x (went from charging $30 to $250+ for the same gig)
Receive messages from interested buyers daily, without any additional promotion
I WANT IN!
Imagine getting clients funneled to you every week, without having to spend any time, money, or effort on marketing.
The Make Money on Fiverr Masterclass contains everything you need to:
Nail down your services & get clear on exactly what you want to offer
Set up your profile & stand out to buyers (even if you don't have experience yet)
Optimize your gigs to rank in the algorithm & draw in your ideal clients
Package & price your services to start getting orders ASAP & maximize your income
Make your first sale & build momentum for your gigs to take off 🚀
Grow your account with do's & don'ts and best practices for success
Understand the tax & legal stuff (I promise it's not so scary)
THIS IS EXACTLY WHAT I NEED !
helping people land their first paying clients is sort of my thing...
Here's what students are saying:
Kirsten Rohanna
I just set up my gig after signing up for your course 3 weeks ago. I have 6 orders now and get messages daily!
Regan Sanders
I have quit my job!!! Taking the leap as a full time freelancer + social media manager making more even this month than my paycheck at my current job. Fiverr has been wildly successful (huge thanks to your Masterclass!!)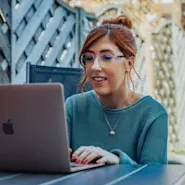 Hannah Manning
Lindsay was super clear on the exact steps you need to take to become a successful seller on Fiverr.
Still hesitant?
THE MAKE MONEY ON FIVERR MASTERCLASS IS FOR YOU IF:
You're a brand new freelancer lost on where to find your first paying client
You don't have the time or money to build a website, grow an audience on social media, and find clients on your own
You feel like you have skills to offer, and just need an easy way to connect with clients
You're an established freelancer and want a simple way for more clients to find you
YES, THAT'S DEFINITELY ME!
Wondering what you can offer on Fiverr?
HERE ARE SOME OF THE MOST POPULAR GIGS:
Web Design
Copywriting
Graphic Design
Podcast Editing
Digital Marketing
Virtual Assistant
Video Editing
Photography
Data Entry
OK, SIGN ME UP!
Get your first order within 60 days or your money back.
If you don't receive your first Fiverr order within 60 days of setting up your gigs and following the steps in the masterclass, it's free.
Just email [email protected] with a link to your profile and a screenshot of your analytics.
what do you have to lose?
Fiverr is completely free to use, and if your profile is optimized it can quickly become a consistent, reliable revenue stream.
The best part? Fiverr brings the clients to you. I don't spend any time or money marketing my gig, and I wake up to messages from interested buyers every day.
If you find you don't like the platform, you don't have to stick with it.
But what if this could turn into a full-time income stream for you?
There's only one way to find out...
I'M READY! LET'S DO THIS!
Get lifetime access to the Masterclass recording, resources, and future updates.
Will this Masterclass guarantee I get orders on Fiverr?
What if I'm not sure what services I want to offer?
How much time will it take to set up my profile?